For a lot of people Friday the 13th is not a good day. If you're superstitious at all you'd be wanting to bury your head under your duvet and not leave the house just in case something awful happened. For me, Friday the 13th was a day to get excited about this year. Because it was the day that I was finally getting to see Ray LaMontagne.
Let me tell you about my love for Ray. I remember so clearly the very first time I heard him. It was on Jonathan Ross's Radio 2 Saturday morning show and I was probably cleaning the house cos that's when I have the radio on. This husky voice started coming out of my radio that literally stopped me in my tracks. He was singing
Trouble
. And I was hooked. I immediately tracked down his cd. And the one after that. And the one after that. And I joined his mailing list so I'd get all the exciting news about tours and new releases.
When I got the email about his Spring tour and that it was coming to the Sage I ran around to my locker, texted Wavey and excited asked the question: can we go, can we, can we? Of course the answer was yes because it wasn't really a question, I wasn't asking permission, it was simply an overly excited way of squealing that Ray was coming to town and we HAD to go and see him. Tickets got booked. Jumping about was done. Then the countdown began...
...until Friday 13th slowly rolled around. Not only was it going to be an exciting night because of Ray. It was also going to be so good cos it was the first time Wavey and I had been to a gig together. And it was up at The Sage which is a very unusual building indeedy. I've attached a photo for those of you not familiar with it: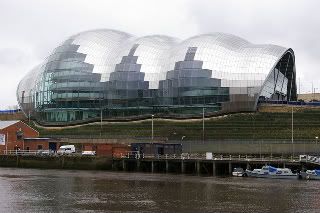 When we got there I couldn't believe it. It was so nice, so clean looking, so...posh! We took our seats and got ready for the big show. The support act was okay. She was called Priscilla Ahn. She had a beautiful voice and she was funny and a wee bit kooky, but her songs had a few too many ooooohs and la la lahs for me. Popped out to get a drink for the interval and had to wait whilst some stupid man put £2 on his switch card and the machine broke and the poor guy behind the bar looked ready for a meltdown...and then it was time!
The hall went to black. The small group of artists came on. And there was Ray! Just a few feet away from me! He was so much skinnier than I expected. But then he started to sing. And my whole body goosebumped. Oh wow. I grabbed Wavey's arm, I couldn't believe we were actually there. That Ray was singing with his band. Right in front of me. Beyond belief. I don't actually have any concept of how long he played for but I knew when they started to walk off I was like, noooo, he can't go yet. Really I just wanted him to stay there and me to stay in my seat in row K and he could just keep singing to me forever. Goosebumps, spine tingles, he was so incredibly amazing. It seemed like a good idea to blog about it but now that I'm actually here trying to write about it, I can't think of the words to describe it to you.
It was such an unusual gig. For a start we were sitting down. I'm used to bouncing around and jumping up and down and singing along. Not really appropriate for where we were. The band were in a semi-circle and Ray stood to the right of the stage, not centre stage like is normal for a lead singer. I think it's fair to say that he is all about the music. He barely spoke in between songs, there were lengthy silences with the odd guitar twang whilst they had small discussions amongst themselves. When he did speak though he was very funny! Which again was surprising as he's such a serious soul. In all, it was a very memorable night. So thanks Ray, for coming to play my town. And for those of you who've not heard him, let me know and I'll pass on his cds. Trust me, they're worth a listen or two...